Rates for Apartments Waldbronn: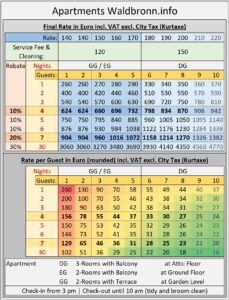 Short-term inquiries and reservations: +49 172 6333600
Rates:
We charge at least 2 nights and at least 2 guests in a 2-room apartment or at least 6 guests in a 3-room apartment. Fast WiFi is optionally available in all apartments for 2.50 euros / day or 50 euros / month.
The rental price is due when our premises are booked and is to be paid in advance, but no later than when the keys are handed over. Extensions or long-term bookings are due 14 days in advance. If you cancel up to 30 days before arrival, we will refund 80% of the rental price. If you cancel up to 14 days before arrival, we will refund 50% of the rental price. If you cancel in the 14 days prior to arrival or do not show up, the full amount will be due.
1 car parking space per apartment is available on the property free of charge. There are other public parking spaces along the street nearby. Optionally, we offer the use of up to 3 charging stations for electric cars with up to 11kW (AC).
Our long-term rental offer
When renting monthly, our apartments cost from only 16 Euro per person and night incl. VAT plus 1.20 euros visitor's tax per guest / night.
Convinced? Then book your desired date on the dates that are still available or call us at +49 172 6333600 !
Apartments Waldbronn
Our 3 apartments offer space for 2 to a maximum of 22 guests.
Our apartments are equipped with a 129 inch laser projector with Harman Kardon Wireless Surround sound system (DG) or 65 inch (EG) or 75 inch (GG) flat screen TV. All apartments offer satellite reception (Astra and Hotbird) as well as Amazon Prime and apps like Youtube etc. Optionally (for 2.50 euros / day) you can use fast WLAN / Internet (with up to 250 Mbit / s).
Our pension is located in the center of Waldbronn (OT Busenbach). All apartments have a view and are quietly located in a south / west direction. There is a garden for communal use. Smoking is permitted outside and you can relax in peace. Further details and photos can be found on the corresponding sub-pages.
Also join our Group Waldbronn in Facebook !